Café Grumpy Roastery
199 Diamond Street | Brooklyn, NY 11222
718.383.0748
We started roasting our own beans in 2009 in the back of our Greenpoint cafe on a vintage Probat 12kg. In 2014, we moved our roasting facility right next door where the original Probat sits next to our restored 1956 Probat 45kg.
With three certified Q Graders on staff and a focus on quality, we work together to select green beans from socially and environmentally responsible producers. We then spend time developing roast profiles to bring out the dynamic nuances in the beans. After roasting, we cup each batch to assure consistent quality.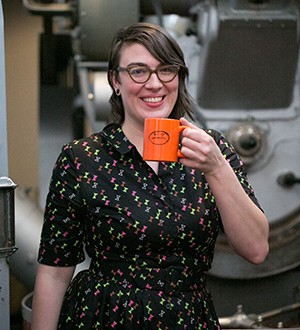 On Selecting Coffee
From our Coffee Buyer, Cheryl Kingan
As a coffee buyer, I view every harvest season as an opportunity to work more closely with our producing partners. Specialty coffee is a labor of love, and each step of the process requires expert attention to detail. We are lucky to work with passionate families and cooperatives who have made the decision to devote their time, energy, and resources to outstanding quality and care for the environment.
Over the past seven years, we have been able to play an active part in improving coffee quality and sponsoring community projects in Central America and East Africa. Long term relationships are the foundation of Cafe Grumpy's coffee program, and every part of the chain is essential to the success of a sustainable and socially responsible business.
Thank you for being a conscientious coffee drinker!
On the Roasting Process
From our Head Roaster, Chris Cross
Great coffee is a testament to consistency amid an infinite number of variables. Everything from the weather at the farm to the temperature in our warehouse can affect cup quality. We tailor every roast profile to highlight the specific strengths of each coffee on our menu. Our ideal is to showcase the perfect combination of flavor, acidity, body and sweetness. In order to achieve this goal, roasting equipment must be properly cleaned and maintained. We've developed our own regimented maintenance schedule to ensure that every piece of equipment is operating to the best of its ability.
Roasting coffee can sometimes feel like balancing an elephant on top of a bowling ball. In this case, the coffee is the elephant and our Probat G45 roaster is the bowling ball. We are the force that provides balance between the two.