Cold Brew
Our cafe-style cold brew now in ready-to-drink bottles!
Our Cold Brew has been one of our personal favorite drinks on our menu and it has also been a favorite with our customers throughout the seasons.

"Crisp and bittersweet, with a complex, shifting set of flavor notes that layer and tease."
-Kenneth David's Coffee Review July 2018.
Our Cold Brew line now includes three products:
10oz "Ready-to-Drink" Cold Brew can be enjoyed straight out of the bottle, or poured over ice with a splash of milk.
32oz "Ready-to-Mix" bottle is a Cold Brew concentrate, containing 8 or more servings and meant to be mixed with approximately equal parts water.
11oz "Ready-to-Drink" Cold Brew TetraPak - Coming Soon!
How do you take your cold brew?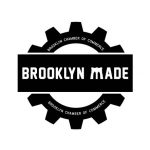 Brooklyn Made Award Winner 2016